Ham and Cheese Puff Pastry Quiche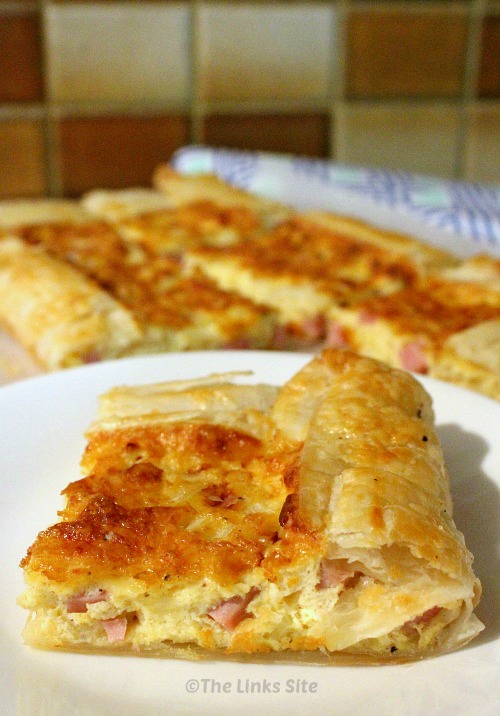 1½ sheets of thawed puff pastry*
1¼ cups of grated tasty cheddar cheese
1 cup of diced ham
½ a small brown onion, diced
3 large eggs
⅓ cup of thickened/heavy cream
¼ teaspoon of ground nutmeg
salt and pepper (large pinch of each)
Grease a shallow 18 x 28 cm (7 x 11 in) baking dish and preheat oven to 200 °C or 180 °C if fan forced ( 400 °F or 350 °F for fan forced).
Place the whole pastry sheet to one end of the baking dish so that it overhangs the sides by a small amount.
Now place the half sheet of pastry at the other end of the dish so that it overlaps the first sheet of pastry by about 2 cm (about 1 inch) and so that it also overhangs the sides by a small amount.
Gently ease the pastry into the dish, making sure that it moulds to the corners.
Press the pastry sheets together where they overlap so that no filling can leak underneath.
Sprinkle one cup of the cheese over the pastry base and top that with the ham and onion.
Now sprinkle the remaining cheese over the top.
In a medium bowl whisk together the eggs, cream, nutmeg, salt, and pepper.
Pour egg mixture over the ham and cheese (reserve a teaspoon or two for brushing the exposed pastry).
Tilt the pan to ensure that the egg mixture gets into the corners properly and also press down on the mixture lightly with a fork to ensure that all of the ham, cheese, and onion are coated with the egg mix.
Fold the overhanging pastry up and over the filling (tucking in the corners) and then brush the exposed pastry with the reserved egg mixture.
Bake for 35 – 40 minutes or until pastry is golden brown.
Cut into slices to serve, can be served hot or cold.
Recipe by
The Links Site
at https://thelinkssite.com/ham-cheese-puff-pastry-quiche/