Salvia plants add wonderful colour to a summer garden. They require only moderate watering, they can handle extreme heat, and they flower for months.
The heat at this time of year is very hard on most plants in the garden. We haven't had any rain for a while now and the temperature is expected to be over 40 °C for much of next week! This is the time when we have to really monitor the garden and make sure the plants are getting enough water.
One plant that seems to thrive in the heat is the salvia. The salvia plant is also known as sage and it is in the mint family. Like mint the salvia has a strong smell when you brush against or crush the foliage. We have several salvia plants in our garden and they are bright and colourful even on the hottest days.
Don't get me wrong, they still have to be watered fairly regularly, but unlike some other flowering plants they don't droop and the flowers don't get burnt off in the hot baking sun.
If you want to attract birds and butterflies to your garden then salvias are a great plant to have. We have many nectar loving birds in our garden and they just love the salvias. In the last couple of years we have also noticed an increase in butterflies in our garden which could be because we planted out several salvias a few years ago.
Salvia plants are very easy to care for too. We just prune them back by about half when they have finished flowering at the end of the summer. If you want to you can also get some more plants growing by taking some softwood cuttings.
I have found that our salvias also produce new plants by layering very easily. I trim back the branches that run along the ground to stop them from spreading too much. I have also learned from the links below that you can dig up your salvia plants every couple of years and divide the plant.
Most of the salvia varieties that we have are very frost hardy; our plants die back a bit in winter but quickly recover to produce masses of colourful flowers in late spring through summer.
We do have one called Aztec blue that dies down in the colder months and shoots up again in spring.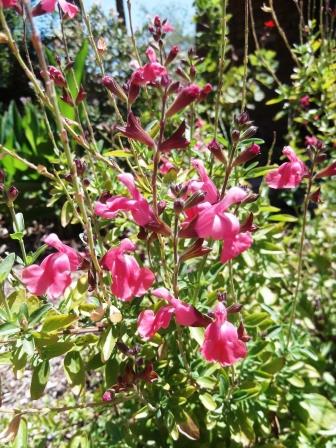 For further information about growing salvia plants check out the following links:
homelife website: How to grow salvias
The National Gardening Association (US) website: Plant Care Guides – Salvia
Salvia Study Group of Victoria website: Plant Information
Gardening Australia website: Plant Profile: Salvia
Salvias are one of my favourite summer flowering plants just because they are so easy to care for. Even when the sun is really burning down the salvias still have their bright masses of flowers.
What is your favourite summer flower?