Deliciously tangy lemon curd without the hassle. This recipe is super easy – no double boiler or strainer required!
I mentioned last year, when sharing my Lemon Brownie recipe, that our lemon trees have provided us with lots of lemons to use. This oversupply of lemons has given me the opportunity to practice making lemon curd. It was called lemon butter when I went to school, but whatever you call it it's delicious!
I have made it a couple of times over the last few years. But I always get put off by the fiddly process. Common recipes call for heating over a double boiler or water bath and require straining off bits of cooked egg white. It always seems like too much effort!
That all changed a couple of months ago when I was reading the comments on one such lemon curd recipe. The person commenting suggested an entirely different way to make lemon curd. It sounded like a very simple method and the comment author said that straining was never necessary. I was intrigued and started searching online for any other mention of this miracle method of making lemon curd.
I came across this piece at fine Cooking that shared the same idea, so I had to try it.
Easiest Method for Making Lemon Curd
This way of making lemon curd is a game changer! I'm no longer put off by fiddly methods because this one is so simple. It's like the early stages of making a cake. You start by creaming the butter and sugar and then you add eggs. From there you just add lemon juice and then heat the mixture until it thickens. So simple!
The one thing you will notice is that the mixture curdles when the lemon juice is added. It looks terrible but it's normal, once you start to heat the mixture it soon becomes smooth again.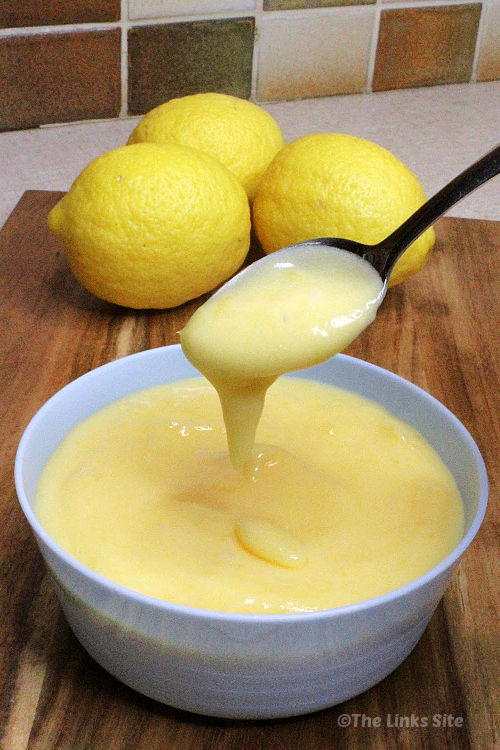 Once you're happy that the curd is beginning to thicken you can add the lemon zest and you're done! Simply pour it into jars or a heat proof container. Then all you have to do is wait until the curd has cooled enough to eat it!
I have made A LOT of lemon curd over the last few weeks. It goes great with lemon cheesecake, and I have also been enjoying it on plain scones with whipped cream!
Another great thing is that it doesn't set hard in the freezer. So, you can make a big batch and put it in an airtight container in the freezer. When you want some just scoop it out and it soon thaws!
Print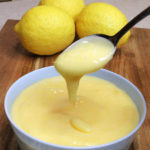 Easiest Homemade Lemon Curd Recipe
Author:

Prep Time:

15 mins

Cook Time:

8 mins

Total Time:

23 minutes

Yield:

About 2 cups or 46 (15ml) serves.

Category:

Sauces

Cuisine:

Dessert
---
Description
Deliciously tangy lemon curd without the hassle. This recipe is super easy – no double boiler or strainer required!
---
2/3 cup of softened butter (160g)
2/3 cup of sugar (160g)
2 eggs
1/2 cup of lemon juice *
1 tablespoon of finely grated lemon zest **
---
Instructions
Using a stand mixer with large bowl cream the butter and sugar until light and fluffy.
Add eggs one at a time and beat, scraping down the sides of the bowl after each addition.
Add lemon juice and beat to combine; scraping down the sides of the bowl occasionally – mixture will look very curdled at this point – this is normal.
Transfer mixture to a saucepan and heat over low heat with constant stirring until mixture begins to thicken.
You will know that you have cooked the mixture enough when it begins to coat the back of the spoon. I find that this process takes 7 – 8 minutes.
If you want to test the curd, remove the saucepan from the heat and place a spoonful of curd onto a saucer. As the curd cools on the saucer, you will notice it thicken and it shouldn't run if the saucer is tilted.
If the curd does not show signs of thickening return it to the heat and continue stirring for another minute or two.
Once you are happy that the curd is thickening, remove it from the heat and stir in the lemon zest.
Transfer to a heat proof container or sterile jars. 
Store lemon curd in the fridge. If in sterile jars it should keep unopened for 2 -3 months, once opened use within 2 weeks.
If you haven't put your lemon curd in jars, but don't think it will be used within 2 weeks, pop it into the freezer in an airtight container. It should last at least 6 months in the freezer.
---
Notes
* You will need 3 to 4 medium lemons
** I usually zest 2 or 3 of the lemons that I am going to juice 
If using Meyer lemon reduce sugar to 1/2 cup or 110g
---
Nutrition
Serving Size:

15g

Calories:

54

Sugar:

5g

Sodium:

33mg

Fat:

3.9g

Saturated Fat:

2.4g

Trans Fat:

0,1g

Carbohydrates:

5g

Fiber:

0g

Protein:

0g

Cholesterol:

20mg