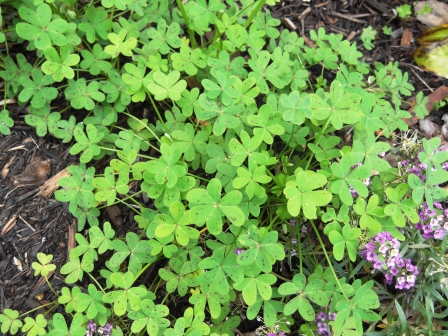 I find weeding the garden can be quite therapeutic, getting down on your hands and knees amongst the plants you can forget about life's troubles and just concentrate on pulling up those pesky weeds while you burn some calories!  If you are vigilant and ensure that the weeds are removed before they can have a chance to flower and spread their seeds then most weeds will not return either!
One weed that is not so easy to get rid of is my arch enemy oxalis pes-caprae, also known as soursob and sour grass. This weed is not going to go away if you pull up the plant because the bulbs are still left in the ground and will re-emerge at the next opportunity!
In the past I have been successful in wiping out the oxalis when it is in an open area by spraying it with a glyphosate based product, like Roundup. However, it is not possible to spray it when it is in and around the plants in a garden bed.  I'm too scared I'll kill my other plants!
So I have been looking online for information that will help me in my quest to wipe out (or at least minimise) the oxalis in my garden. The following links have given me valuable information to help me control the oxalis weeds in my garden.
Removing Oxalis Weeds – A Multistep Approach
To get the maximum reduction of oxalis in the garden you need to use a variety of techniques and be prepared to keep treating the area until you have the weeds under control.
Firstly it is possible to remove the weeds by hand but it is essential that you make every effort to remove as many of the bulbs as possible. The soil can be sifted to ensure all of the bulbs are removed but this can be very tedious. Personally I have not found the results of sifting to equal the effort required.
Also be careful when disposing of oxalis weeds, you don't want to spread them to another location. Where possible put them in a plastic bag and leave them in the sun to ensure that the plant and the bulbs have been killed.
Oxalis can be eliminated from garden beds by removing several inches of the topsoil which ensures that all of the bulbs are removed. This method could provide a quick solution to the problem but might be costly if a large area of topsoil is involved.
Putting down a thick layer of newspaper followed by garden mulch has also been suggested as a useful way to control oxalis weeds. I have only recently begun doing this and I have had some success.
The use of chemicals such as glyphosate or metsulfuron methyl are also suggested as potential solutions but care must be taken when using any chemical not to harm other plants, animals or people. As I mentioned earlier I have had some success using glyphosate but it is not possible to use it on the weeds that are growing right in and around garden plants.
Some great links that discuss all of these methods are:
Royal Horticultural Society website: Oxalis
Environmental Weeds Action Network website Factsheet: MANAGING WEEDS IN BUSHLAND, SOURSOB, FINGERLEAF & FOUR O'CLOCK
Best Time to Spray Oxalis Weeds
Each of the above links stress that it is important to spray oxalis at the right time to maximise the effect of the chemical. Just prior to flowering is the best time to spray oxalis weeds because the older bulbs have put all of their energy into the flowers and new bulbs have not had a chance to grow yet.
I was able to find a very old study that looked at glyphosate control of oxalis and it has a great illustration showing the best time to spray oxalis weeds. Although the study was focused on reducing oxalis in cereal crops it still provides great information on killing oxalis in any garden.
This study suggested that oxalis should be sprayed with glyphosate at either growth stages 5 or 6 which are shown in the illustration (below).
The full study can be found here:
Council of Australasian Weed Societies Inc. website: PDF Research Paper: Glyphosate for control of soursob in winter cereal systems in southern Australia
Suppressing Oxalis Weeds with Fertiliser
One method of suppressing oxalis that I had not thought of before looking online is using fertiliser. According to the link below you can apply an appropriate fertiliser to your plants over the summer months while the oxalis is dormant. When the oxalis begins to grow in autumn they will get too much fertiliser and they will die. Just be careful not to fertilise if you have native Australian plants in your garden.
Gardening Australia website: Fact Sheet: Garden Weeds
Suppressing Oxalis Weeds using Soil pH
It has also been suggested online that correcting soil pH might help to suppress oxalis weeds. In the gardening forum link below, one contributor suggests that oxalis prefers a soil pH of around 5. Testing soil pH is something that should be done occasionally so it can be adjusted to suit your plants requirements. If your soil pH is low it would be possible to check the pH that your plants require and then raise the pH accordingly. As many other plants require the soil pH to be closer to 7 (neutral) it might be possible to raise the pH of the soil and deter the oxalis.
Geelong Organic Gardeners Inc. website: Winter weeds: thoughts on tactics
I have learnt a lot about controlling oxalis from the links above. I already knew that it was very hard to remove all the bulbs but it is great to find so many other methods that I can try. I think that I will be using a combination of these methods in the future. I will also have to be persistent and keep trying these methods for a few years.