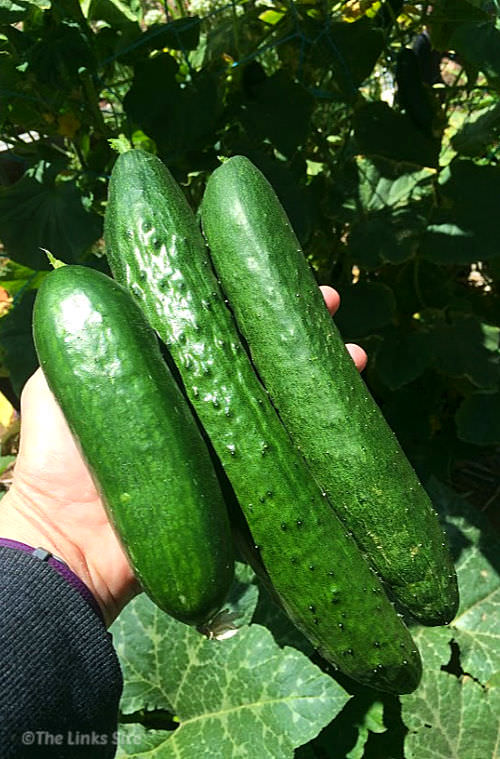 Summer is officially over but nobody has told our cucumbers; they are producing better now than they did all summer! It is probably because we had such a hot summer this year. In contrast early autumn has been warm but not too hot so the vegetables are very happy!
We love eating fresh cucumbers but sometimes there are a few too many to handle. At the moment we are picking a couple of them every other day! We have had an oversupply of cucumbers other years too and we have found it hard to keep them fresh until they can be used or given away to family and friends.
Last year we tried wrapping them in plastic like how they wrap the long cucumbers at the supermarket. Then we stored them in the fridge but they didn't keep very well. Actually they went all slimy – Yuk!
Apparently you are supposed to store your cucumbers at room temperature but ours always go soft and limp if we do that. This link suggests that they should be stored at around 55 °F (12 °C) but we don't have any spots in our house that are that cool during summer! Because we don't have a cool room we have no choice but to store ours in the refrigerator.
Earlier this year we found this article that discusses harvesting and storing cucumbers. It suggests that you wrap them in a towel and then put them in the fridge.
How We Are Storing Our Cucumbers To Keep Them Fresh For Longer!
Wrap each cucumber is a sheet of paper towel – try to cover as much of the outside of the cucumber as you can.
Now wrap the cucumber in plastic cling film and place it in the fridge.
Just remember that cucumbers don't like to be too cold so it is best to keep them in one of the warmer sections of the fridge. We have found that storing them on a shelf near the front of the fridge is good.
This method has been very successful with cucumbers harvest over a week earlier still coming out nice and crisp and fresh. We have three or four in the fridge at the moment and there's plenty more on the way. So now we can keep them fresh for our yummy salads!
I hope that you find this tip useful too!