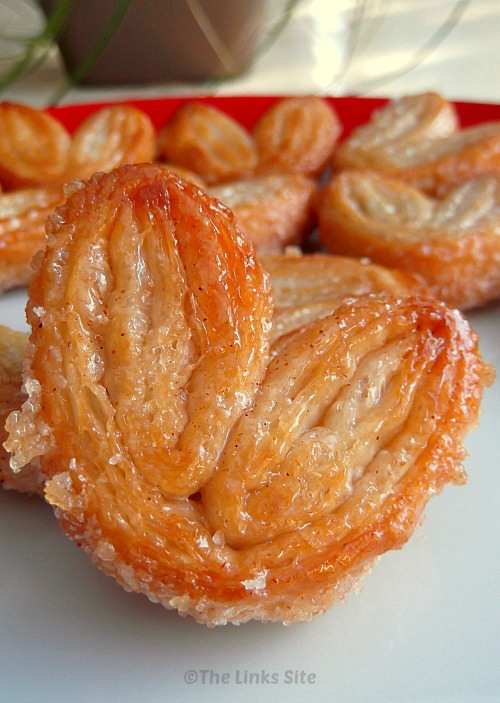 These cinnamon palmiers are very addictive because they are so crunchy and sweet. They are also a treat that anyone can make because the recipe is so easy!
I have recently been introduced to an amazing little pastry snack that I had never even heard of before now. The sweet little bites of heaven that I am referring to are cinnamon palmiers. I'm not sure why I have never come across them before now – they are so good everyone should know about them!
When I first stumbled across this recipe I thought it sounded too good to be true – something truly yummy can't be that easy to make! But I gave it a go anyway and was very pleased with the result.
I was searching for easy to make puff pastry recipes when I came across a recipe for palmiers. When I started out I wanted something that was simple to make. I also wanted something that would just use ingredients from my pantry.
Well cinnamon palmiers certainly satisfy both of those requirements! They only use cinnamon, sugar and puff pastry. And the method is so easy; the puff pastry is coated in the cinnamon and sugar and then folded.
How easy is that!
The cuteness of the palmier shape was definitely another reason that I wanted to give this recipe a try. The word palmier in French means 'palm tree' which is clearly referring to their distinctive shape. They are also referred to as 'elephant's ears'!
I think that traditional French palmiers would be made using fresh puff pastry but I cheated and used a sheet of frozen ready rolled puff pastry. But hey I think most of us would cheat on that step – right?
These little pastries smelled so good when they were baking. Not only can you smell the cinnamon but the sweet aroma of caramelised sugar also wafts through the house. Actually there was some caramelised sugar left on the baking tray when I was finished and when it cooled it was also gobbled up!
The palmiers seem to have just the right amount of sweetness and you get a satisfying crunch when you bit into them. They hardly had time to cool down before they were being devoured – and you just can't stop at one! 
The recipe which I have adapted slightly was found at: Jessica Gavin website: Delicious French Palmier Cookie Recipe

Sweet and Crunchy Cinnamon Palmiers
These cinnamon palmiers are very addictive because they are so crunchy and sweet. They are also a treat that anyone can make because the recipe is so easy!
Recipe type:
Dessert, Snack
Ingredients
1 sheet of thawed ready rolled puff pastry (approx. 24cm or 10 inch square)
⅓ cup of sugar
1 teaspoon of cinnamon
Instructions
Mix the cinnamon and sugar together in a small bowl.
Sprinkle the surface of the pastry with about two tablespoons of the cinnamon sugar mixture (you can lightly use your fingers to spread it out evenly if necessary).
Now roll over the surface of the pastry with a rolling pin to press the sugar mixture into the pastru.
Gently flip the pastry sheet over and repeat steps 2 and 3 on the other side.
Now fold the longest edges half way into the centre of the pastry and roll over with the rolling pin.
Fold the pastry again so that the two edges meet in the middle.
Sprinkle the pastry again with about half of the remaining sugar mixture and then roll over the pastry with the rolling pin again.
Fold the two halves together so that you end up with 6 layers of pastry in one long strip.
Chill the pastry in the fridge for 15 minutes.
Preheat oven to 200 °C (400 °F).
Remove the pastry from the fridge and slice into 1cm strips.
Dip the cut edges into the remaining cinnamon sugar mix and place onto a lined baking tray (leave room for the palmiers to spread - about 2 inches).
Bake palmiers for about 14 minutes or until the sugar has caramelised on top and then turn them over carefully using tongs or a spatula.
Bake for a further 4 minutes or until the other side of the palmier has lightly browned.
Transfer the palmiers to a cooling rack to cool completely (I suggest that you place a piece of baking paper on the cooling rack first because the palmiers are sticky with molten sugar when they are first taken from the oven – the paper stops them from sticking to the cooling rack!)
Nutrition Information
Serving size:
12g
Calories:
60
Fat:
3.2g
Saturated fat:
0.8g
Trans fat:
0g
Carbohydrates:
7g
Sugar:
3g
Sodium:
21mg
Fiber:
0g
Protein:
1g
Cholesterol:
0mg
Don't be daunted by all the steps in the instructions – some of them are just explaining how to fold the pastry!
If you find it a bit hard to visualise how to fold the pastry; I found that the following YouTube video showed clearly how the pastry needs to be folded. It uses a slightly different recipe but the basic process is the same.
VideojugFoodAndDrink: How To Coat Palmiers
Because they are just basically puff pastry and sugar the palmiers will keep well in an air-tight container for at least a few days. Not that I can say exactly how long they will keep because mine were gone within a day or so!
They are definitely something that you could make ahead of time and then bring out at the end of a dinner party to have with coffee.