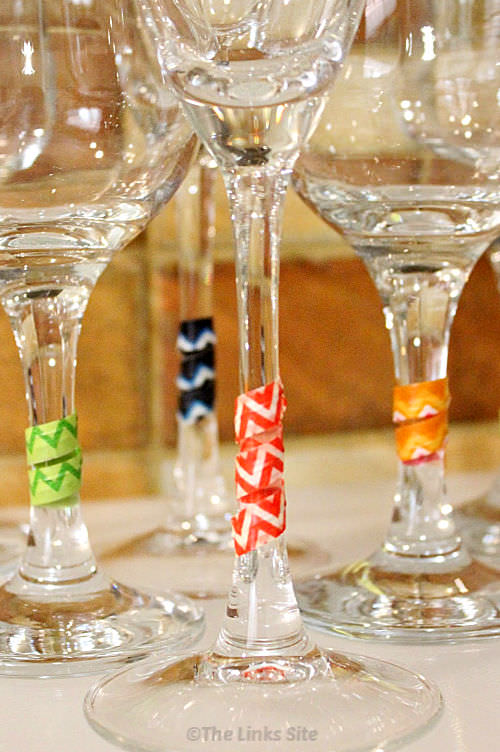 You will never find an easier way to decorate wine glasses for your next gathering than this. That's because these wine stem wraps are simple to make and cost next to nothing!
I've wanted to make wine charms or wine stem wraps for a while now. I've just been waiting for the right idea to pop into my head! I know that I could just buy some wine charms but they're not something that I need very often. And besides why buy it if you can make something yourself! The main criteria I had for this project was that the charms or wraps had to be quick and easy to make and use stuff that I already had on hand.
Recently I was thinking about how I had covered twist ties with washi tape to decorate Easter gifts. I was pretty sure that I could do something similar and make some attractive wine stem wraps.
Actually once I had decided on using washi tape and twist ties I was able to finish this project in just a few minutes. It took more time to choose the washi tape colours than it did to make the wraps!
I decided to go for mostly bright colours that were significantly different enough that they wouldn't get mixed up. After a couple of glasses of wine you don't want to be comparing shades of pink to work out which glass is yours!
Any way like I said earlier these DIY wine stem wraps are made with items that most people will have around the house. I used plain white twist ties – just the ones that come with garbage bags and the like. We seem to have heaps of them in our kitchen draw! I also have a good selection of washi tape on hand. If you don't have washi tape it is very easy to pick some up. Most craft and department stores all stock washi tape these days.
The twist ties that I used were 7.5 cm (3 inches) long. This allowed for two or three twists around the stem of the glass. You could use longer ones if you want to cover more of the stem.
How to Make Decorative Wine Stem Wraps
Materials:
Twist ties
Washi tape (assorted colours)
Scissors
Method:
Pull out a length of washi tape that is slightly longer than your twist tie.
Lengthwise place a twist tie on to the sticky side of the washi tape – place it to one side leaving a couple of millimetres between the tie and the edge of the tape (see below).
Cut the washi tape off the roll so that it is flush with the end of the twist tie.
Carefully fold the washi tape in half lengthways so that the twist tie is now sandwiched between layers of tape. I fold the middle over and then work out towards the ends (see below).
You now have a completed piece that can be wrapped around the stem of your wine glass.
Repeat the whole process until you have enough wine stem wraps to cater for your needs.