We use lots of garlic these days; it hasn't always been that way though. Despite having garlic growing in our garden, until a couple of years ago, we were not harvesting and using it – gee that has changed! The last couple of years we have really become passionate about growing our garlic.
Last summer we had a large harvest of garlic and we have been using it as often as possible. We use it in soups, stews, on pizzas and for garlic bread. We usually either mince it or dice it but recently I started to wonder about how to roast garlic.
I have purchased many tasty products over the years that include roasted garlic but I have never tried to roast garlic myself. I started to imagine using roasted garlic on pizzas and in spaghetti sauce and also making my own dips with roasted garlic –yum! I must say the thought of all that roast garlic really had my mouth watering so I had a quick search online to see how to do it.
Turns out it is very easy to roast your own garlic and I found lots of websites showing how to roast garlic. All you need is some aluminium foil, olive oil, and some garlic and you can easily roast it in the oven.
I originally found a great link at the kitchn which provides quite a bit of information on how to roast garlic in the oven.
How to Roast Garlic
Preheat oven to 200 °C (400 °F).
Take a whole bulb of garlic and rub off the outer papery layers.
Chop of the top of the garlic bulb (about half an inch or a bit over a centimetre) to expose the individual cloves.
Place the garlic on a piece of aluminium foil.
Drizzle a teaspoon of olive oil over the top of the garlic bulb so that it gets down in and around the cloves.
Wrap the foil up and around the garlic and pinch it together at the top to make a parcel.
Roast it in the oven for 40 minutes.
After 40 minutes check the garlic – test it by piercing it with a sharp knife – it is done when the centre clove has completely softened.
Allow to cool enough that you can easily handle it.
Squeeze out the roasted cloves of garlic.
I found this method really easy and you can use it to roast as many bulbs of garlic as you need. I was also pleased to read about how to store roasted garlic. It is good to know that roast garlic will keep in the fridge for up to two weeks and up to 3 months in the freezer!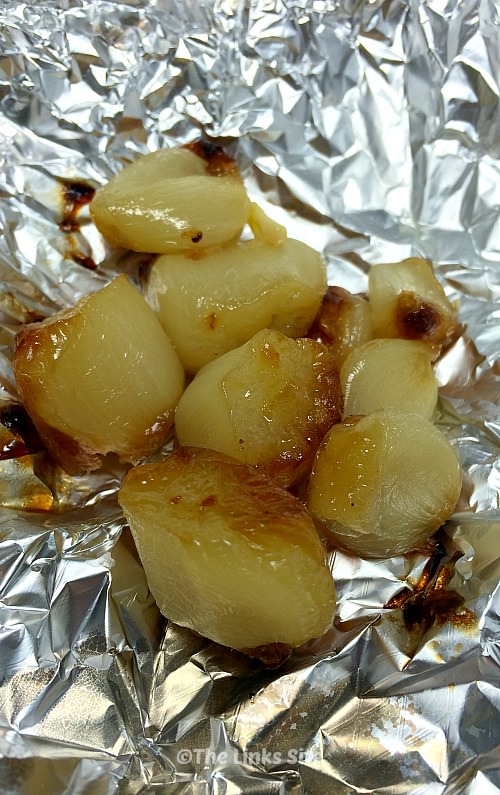 If you want to see how it is done have a look at the YouTube video from Chef Tips below. It shows the basic method from above but it also shows that it is easy to roast garlic on your BBQ or grill.
Another great link, that discusses several methods for roasting garlic, can be found over at Cook Novel. It's a very comprehensive article that covers almost everything about roasting garlic and also provides some yummy recipes.
We have really loved trying out roast garlic in our recipes. I roughly chopped a couple of cloves of roasted garlic and dotted it over a homemade pizza recently and it was wonderful. It was also really nice when used to make garlic butter for garlic bread. I intend to roast some more soon and freeze it so that we have some roast garlic to use whenever we need it in a hurry!