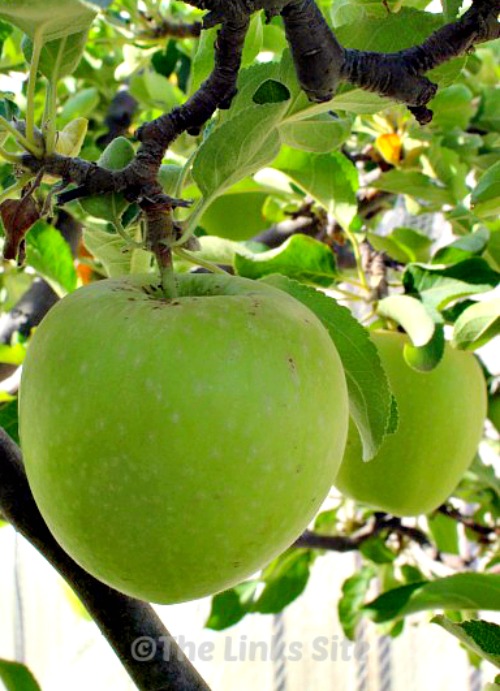 We have a couple of apple trees in our garden; a green apple which is a Granny Smith plus a red variety which is a Jonathon. So far we have had a fairly good harvest of apples this year. The Jonathon apples were ready in late February and it was great eating them straight from the tree on a summers evening. They are all gone now!
The Granny Smith (green apple) matures a bit later so that tree is loaded with fruit at the moment. We have had it covered with bird netting for the last few weeks because the birds started eating the apples long before they were ready!
I was checking the tree the other day and started wondering about the best way to tell when the green apples are really ready. They are not like a red apple that changes color when it's ready! And because apples don't ripen any further after they are picked it is important to know how to tell when a green apple is ripe.
As it turns out there are some helpful hints available to help you tell when a green apple is ripe.
4 Easy Ways to Test If Your Green Apple Is Ripe
Check how easy it is to pick the apple; give it an upwards twist and if it separates easily it is ready. You will never have to cut a ripe apple from the tree.
Check the seed color; the seeds in an apple will general turn brown then the apple is ripe.
Do a taste test; try an apple – if it is sweet and juicy it is ripe but if it is tastes starchy then you probably need to wait a little longer.
Look for fallen apples; if some apples have fallen off (not rotten or bad ones) then it is a good sign that the apples are ripe.
Predicting When You Green Apples Will Be Ripe
You can also predict ahead of time when your green apples will be ripe by knowing how long it takes from bloom to fruit ripening. Granny Smith apples take 170 – 180 days from bloom to harvest so if you know when the tree bloomed you can calculate when you should harvest.
If you use this link to put in the date of when your tree blooms and ask it to add 170 days you will know when to start checking your fruit.
Luckily I took a photo of our green apple tree blossom so I had a record of the date and was able to predict the harvest time – which is about now!
A few years ago we had a large green apple harvest and I think we left the apples on the tree for a bit too long. The apples didn't store very well and that was probably because they were over ripe.
I think that our apples are about ready now so this year I am going to make sure that we pick them at the correct time!
For more information on harvesting and storing apples take a look at the following links:
University of Wisconsin Extension: Garden Facts, When are apples ripe?
Extension: What is the best way to tell when apples and pears are ripe?