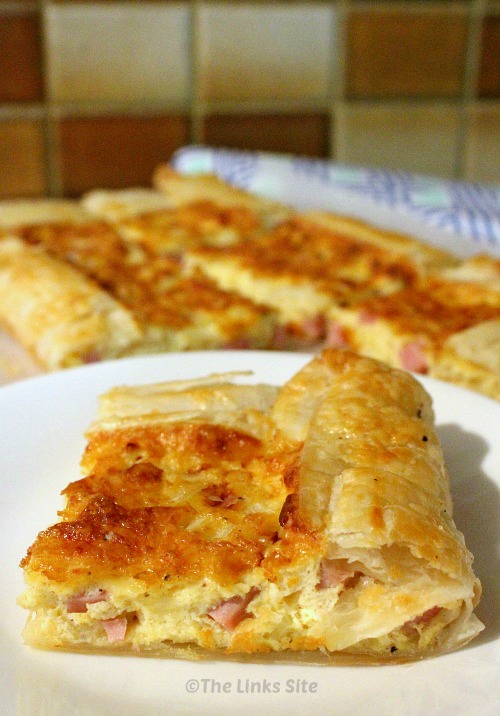 This Ham and Cheese Puff Pastry Quiche will be the star of the show at your next big get together. Very easy to make, and versatile to boot, this quiche is delicious as a main dish or appetizer, plus it's also perfect for breakfast or brunch!
I have made this quiche several times now; it is one of those recipes that once you have tried it you know you will definitely make it again. I first made it in early December and it was so good that I just had to make it again for a Christmas party. I've made it a couple of time since then too!
And the fact that this is a puff pastry quiche means it is super easy to prepare. No messing around making up a crust first! The result is a quiche that has a flaky golden crust and a soft and delicious filling – yum!
While this ham and cheese quiche is wonderful hot and fresh from the oven I have to admit that I absolutely love it cold. This means that it is perfect during summer AND winter! It is also a multipurpose quiche because you can use it as a main dish or it is also wonderful when cut into smaller pieces and used as an appetizer!
Cut into larger pieces, we find that it is great on its own as a quick lunch or you could serve it with a side salad. If you cut it into smaller pieces then it is the perfect appetizer or finger food for your next party. Served cold this would be a great appetizer at a summer BBQ!
Because it is so delicious cold you can make it a day ahead and it also freezes well. When I have some frozen I will lift it out of the freezer into the fridge the night before I want to use it. I have only kept it in the freezer for a couple of weeks but it should be okay in the freezer for up to one month.
This Ham and Cheese Puff Pastry Quiche was adapted from a recipe I found at Exclusively Food. It is now a family favourite and firmly in rotation at our house!
If you like this recipe you might also like my
Quick & Easy Sausage Rolls
or my recipe for
Delicious Savoury Pinwheels
!