My method for using up leftover puff pastry is something that I have been doing for years. It was the method that my mother used when I was a kid so now I do it too. Today I'm going to share this very easy and tasty way to use up your leftover puff pastry! Oh and let me just say that when I talk about puff pastry I am referring to the frozen sheets. I always keep some puff pastry sheets in the freezer; they're very handy for so many recipes!
You don't always end up with leftovers when working with puff pastry, for instance pinwheel recipes usually require a whole sheet. Other recipes are different though, especially if you are cutting out irregular shapes.
For example when you have to cut out some circles (maybe for the top of some pies) what do you do with the scraps from around the outside? I'm here to tell you not to throw those puff pastry scraps away – those strange looking leftover bits can be very tasty!
After I have cut out some circles and used them for another recipe I will cut the leftover puff pastry scraps into smaller pieces and arrange them on a baking tray. Then I just brush the leftover pastry pieces with some milk and sprinkle them with cinnamon sugar. A few minutes in the oven and voilà you have a delicious tasty puff pastry treat! And because you already have the oven on they'll be done in no time at all!
They might look a bit funny but they taste wonderful plus they're very versatile too! You can just snack on these little beauties by themselves, or you could spread them with jam or Nutella. I can also assure you that they also go really well with ice cream and fruit! Some pie apples topped with a few of these and some ice cream – so yum!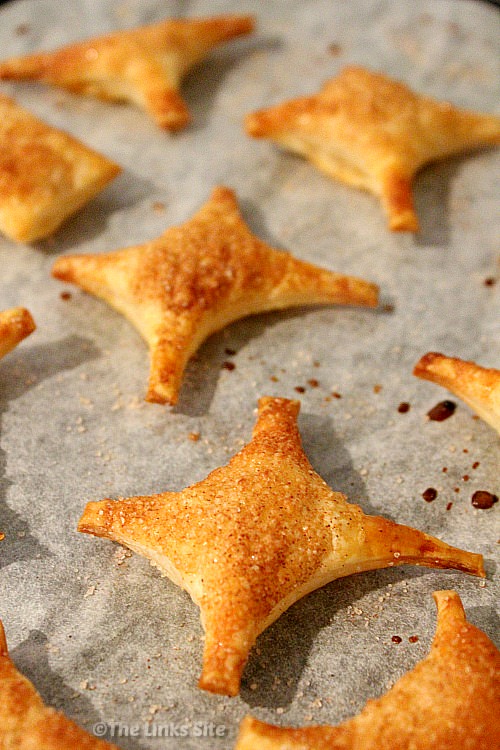 After I make my Ham & Cheese Puff Pastry Quiche I end up with half a sheet of leftover pastry. In this case the leftover pastry has straight sides so I'm able to make some more attractive treats. I usually make this leftover piece into small triangles. When they're cooked these cinnamon sugar triangles look very cute!
Probably the best thing about these leftover puff pastry treats is that they will keep for ages in an airtight container. Although they probably won't last very long because they're so yummy! I keep mine in a canister on the bench and it's so handy to just grab one when you want a sweet snack.
These are a bit like a crunchy, delicious puff pastry cookie. You could make these anytime you want a quick and easy sweet treat. If you have some puff pastry nearing its expiry date (or even if it isn't!) why not make up some of these delightfully crunchy pieces!
Get the kids involved too. Not only can they help you cook them, they will love to help you eat them!
How to Use Up Leftover Puff Pastry Scraps