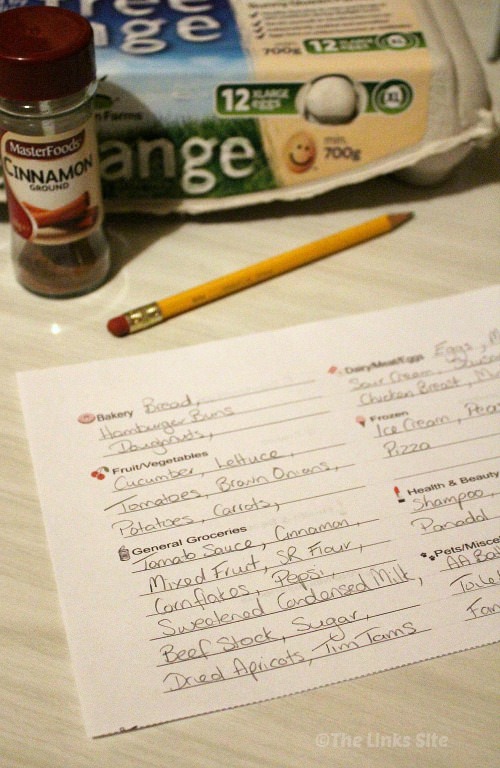 A couple of years ago I bought a magazine that had a free shopping list pad included as a bonus. The shopping list pad stayed in a draw for a long time before I came across it again and started using it. I have been using it for my weekly grocery shop for a while now and I love it.
This freebie shopping list was divided up into sections. They were logical supermarket layout type sections such as meat; fruit and vegetables; and general groceries. I found this list to be very handy because it allowed you to organise what you need before you leave the house. Previously I had been just using a blank piece of paper and I wasn't always writing down my list in any great order. This meant that I would be constantly scanning the entire list all through the shop to make sure that I hadn't missed anything. With a more organised list I was able to get around the supermarket much more quickly!
But sadly the free shopping list pad has run out so I have decided to make a similar printable shopping list of my own. While designing my printable shopping list I thought I'd give it a tweak. I decided to add another category or two to make the list even more helpful!
My list includes all the big areas of the supermarket such as the bakery; fruit & vegetables; dairy, meat, eggs; healthy & beauty; general groceries; and pets/miscellaneous. This way no matter where you start in the supermarket your shopping list is still organised and easy to follow!
I find the list handy when I am working out what I need to buy as well. The presence of sections prompts you to check the freezer, pantry, bathroom; etc. to make sure you haven't forgotten to add anything to the list.
I have included the list here as a printable PDF file. Each A4 page contains two shopping lists that can be easily divided by cutting through the centre. I have made them this size because I don't think that you need a full A4 sheet just for your groceries!
I am currently printing mine onto the back of scrap paper. We have a little pile next to the printer so that we can reuse any scrap pieces of A4 paper. You could also print these back to back and get four per sheet if you like!
We usually make note of things we need on a whiteboard on the fridge throughout the week. So when shopping day comes around it is easy to just transcribe the list over to my printable shopping list. But you could also stick the list to your fridge so that it is easy to add any items you need as they arise.
I hope that you find this organised shopping list as helpful as I do. Please leave a comment if you have any other tips that help you to organise your grocery shopping trips!